Veterinarians
Dr. Tom Austin

Veterinarian
Dr. Tom Austin has his roots in West Virginia. He was born in Charleston and raised in Ripley, where most of his immediate family still resides. He received his B.S. degree from West Virginia University and his DVM from Purdue University. Dr. Tom began his veterinary career in his hometown as a mixed animal practitioner. After this, he moved to Southern California, where he became co-owner of a multi-doctor small animal hospital. He worked in California for approximately 25 years prior to returning home to West Virginia and opening Grace Animal Hospital with his wife, Dr. Farrah Austin. Dr. Tom Austin has special interests in orthopedic and soft tissue surgery, as well as surgical and non-surgical diagnostics such as ultrasound and endoscopy. He is a seasoned orthopedic surgeon regularly performing cruciate ligament repair including the TTA method, patellar luxation repair, and fracture repair with external fixation, and IM pinning. Dr. Tom is also a very skilled soft tissue surgeon and performs many corrective, intra-abdominal, thoracic, and oncologic surgeries.
Dr. Farrah Austin

Veterinarian, Certified Veterinary Acupuncturist
Dr. Farrah Austin was born and raised on the western coast of Congo, Africa. She holds dual citizenship with the United States and Switzerland, however made the U.S. her permanent residence in 1986. She has a B.S. degree in animal science from California State Polytechnic University, and she received her DVM from the University of California, Davis in 2008, tracking in small animal medicine. Following her graduation, Dr. Farrah worked in a small animal practice in Southern California, until she and her husband relocated to West Virginia and began Grace Animal Hospital. Dr. Farrah Austin has special interests in internal medicine, ultrasound, and holistic medicine. She became credentialed in veterinary acupuncture through the International Veterinary Acupuncture Society (IVAS) in 2018, and is also a member of the American Academy of Veterinary Acupuncture.
In their free time, Dr.'s Tom and Farrah enjoy spending time with their three dogs, Zoe, Crystal, and Joy, and three cats, Jasper, Emily, and Liberty. Dr. Tom has two sons, Hunter and Miles, both of which are residing in California. Together, the Austin's enjoy cooking, gardening, traveling, cycling, and spending time with family.
Dr. Joe Conlin

Veterinarian
Dr. Joe Conlin grew up in rural Eastern Tennessee with his 2 brothers and 4 sisters. He received his undergraduate degree in Animal Science with a minor in anthropology from the University of Tennessee in Knoxville. Following this, he relocated to Parkersburg, West Virginia, where he has been living for the past 23 years. Dr. Joe resides with his best friend and partner, Angie, and for the past 18 years has helped raised her two children. Sharing their home are four dogs and four cats, all who needed rescued at some time of their life. When not working, Dr. Joe enjoys cooking, hiking, canoeing, and fly fishing. He is also a back yard beekeeper, and loves American and pre-Columbian History.
Staff
Lisa Rhodes

Practice Manager
Originally from Mineral Wells, Lisa moved to Clarksburg in the year 2000. She has three children, Daniel, Mackenzie, and Olivia. In her free time, she enjoys searching for new recipes, watching movies, and spending time with family and friends. Lisa began working at Grace Animal Hospital as our client service manager since it first opened in 2011. Her caring personality and dedication to the practice have made her an integral part of the hospital family. She says the opportunity to interact with our clients and their furry family members is what she enjoys most about her work. Lisa has three dogs, Ebony, Karma, and Ava, five cats, Isabelle, Jasmine Akilah, Elliot, and Lance, and a horse named Jasper.
Amanda Folio

Operations Manager
Amanda was born and raised in Clarksburg, WV, where she graduated from Liberty High School in 2000. After receiving her Associates Degree in Medical Assisting and working in the medical profession for the past several years she decided to pursue her passion for animal care. In April of 2014 she joined the Grace Animal Hospital team of staff and finds everyday a blessing to be able to care for patients. Amanda is currently working towards her degree in veterinary technology. When not working, she enjoys the outdoors, fishing, camping, gardening, and spending time with her family and three dogs, Fuzzy, Rosco, and Rocky.
Candice McKinley

Receptionist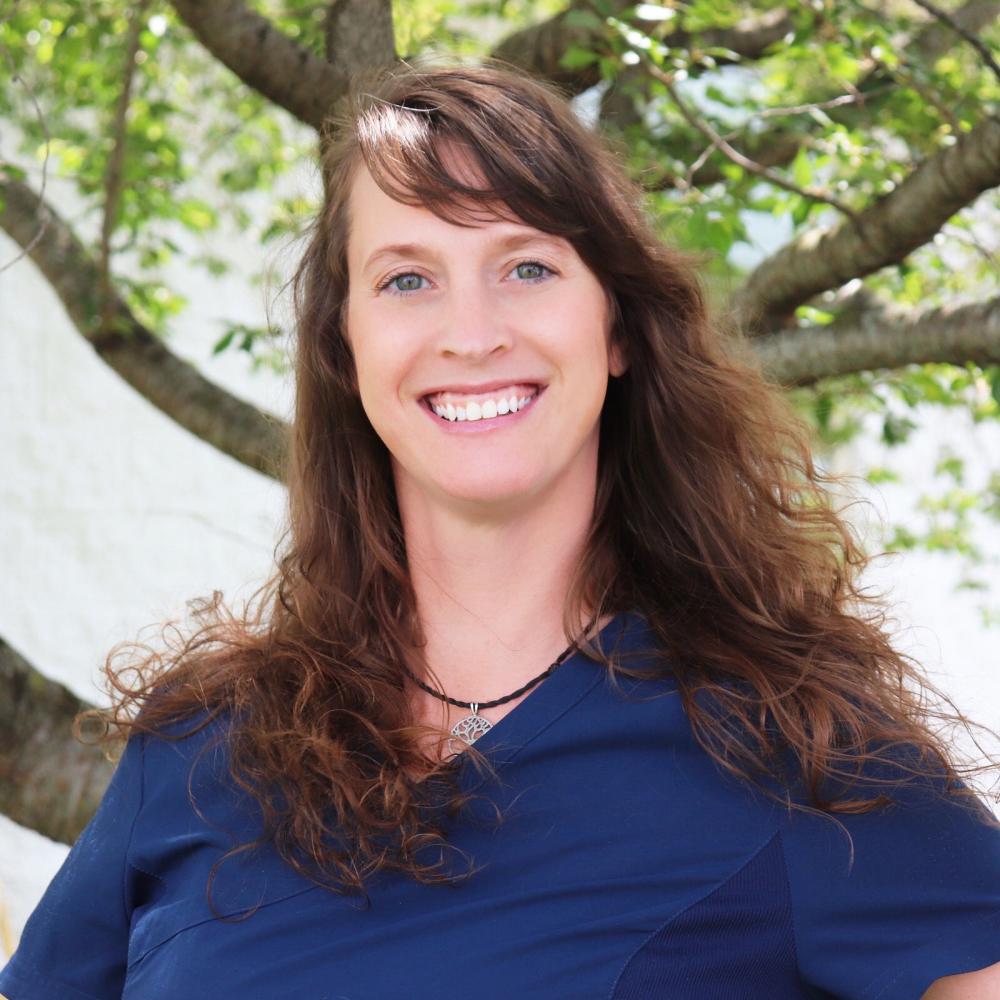 Originally from Lewis County, Candice now resides in Bridgeport with her two daughters, Cora and Leah. They share their home with two cats and a loyal dog named Bootsie. In her free time, Candice enjoys hiking, reading, and spending time with family. Candice has been part of the hospital family since September 2016 and feels blessed to be part of a team that cares so much about pets and their owners alike.
Denise Christafore

Receptionist
Denise was born and raised in the Clarksburg area where she continues to live happily with her husband, David. She is the mother to three sons, one adorable pug named Fei Fei, and a loving cat named Samantha. She started with Grace in the summer of 2018 after working in the human medical field for more than 20 years. She now says that coming to work and receiving puppy kisses is her favorite part of her day.
Martha Patton

R.V.T.
Martha was born and raised in the Bridgeport area. She graduated from Fairmont State with her degree in Veterinary Technology, and subsequently became a registered veterinary technician in 1995. During her career, Martha worked with large and small animals, as well as some exotics. She joined Grace Animal Hospital when it first opened in May of 2011, and worked until her retirement in 2013. Although she is retired, Martha continues to work at Grace filling in when needed. She still lives in the Bridgeport area with her husband, Todd, two horses, two dogs, and a cat.
Ashlynn Carpenter

R.V.T.
Ashlynn was born and raised in the Clarksburg area. She has had a passion for animals ever since she can remember and has always wanted to pursue a career with them. She graduated from Pierpont Community and Technical College in 2018 with a degree in Veterinary Technology and then became a Registered Veterinary Technician. Ashlynn has two dogs, Kairi and Leia, and two cats, Tiger and Frisky. In her spare time, Ashlynn enjoys spending time outdoors, reading, gaming, hanging with family and friends, and fostering animals.
Tanya Stewart

Veterinary Assistant
Originally from East Greenwich, Rhode Island, Tanya now lives in Bridgeport with her husband, Derrick, and their two children, Alex and Addie. She also shares her home with three cats, Pia, Inka, and Hanzo, and two dogs, Draco and Dani. Tanya joined the Grace staff in May 2013 and enjoys helping with the care of our patients. When not working, she enjoys spending time with her family, cooking, sewing, and hiking.
LeAnn Saunders

Veterinary Assistant
LeAnn was born and raised in Oregon, but recently moved to the Bridgeport area with her husband Chris and their two dogs; a black lab named Josephine, and a mixed breed rescue named Pepper. She began working as a veterinary assistant in 2015, while living in Arkansas where her husband was finishing his degree. LeAnn's background is in business management, but decided her passion is for furry family members. Once she was able to work in the veterinary setting, she hasn't looked back. In her free time, LeAnn enjoys spending as much time as possible outdoors with her family, puppies, and friends. She also enjoys reading, traveling, gardening, painting, and getting to snuggle and care for all of our furry patients.
Ashley Pitzer

R.V.T.
Ashley has been working at Grace since August 2014. She graduated from Bridgeport High School in 2014 and the Veterinary Technology program at Pierpont Community and Technical College in 2017. Ashley is currently attending West Virginia University, working towards her bachelor's degree in Animal Science. Following this, her plans are to further her education in the field by attending veterinary school. In her spare time, Ashley enjoys dancing, being crafty, spending time with friends and family, and her two dogs and two cats. She feels blessed to be able to share her love and passion for animals alongside her talented co-workers.
Lucas Small-Johnston

Veterinary Assistant
Lucas was born and raised in the Clarksburg-Bridgeport area and graduated from Robert C. Byrd in 2008. He has had animals his whole life and would talk about working in an animal hospital when he was younger. Lucas joined Grace Animal Hospital in 2015 and couldn't be happier about the position and the team he gets to work alongside. He enjoys the outdoors, hiking, and camping. Lucas also enjoys hanging out with family, whether that is a movie with his mom, a sports game with his nephew, relaxing with his wife, or anything with anyone else.
Sarah Haller

R.V.T.
Sarah was born and raised in Philippi, WV. She graduated from Philip Barbour High School in 2015 and began working at Grace Animal Hospital in November of 2016. Sarah grew up knowing she wanted to work with animals and started volunteering at the local animal shelter. Now, she is enrolled at Pierpont Community and Technical College pursuing a degree in Veterinary Technology. Sarah has two dogs, Jake and Spike, two cats, Dobby and Phoenix, a goat named Reece's, and a sheep named Snowbelle. In her free time, Sarah likes camping, fishing, and going out to the movies with her friends and family.